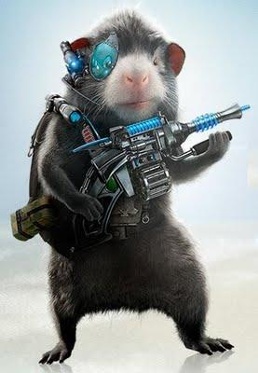 Blaster
is a main character from
G-Force
. He is voiced by Tracy Morgan.
Blaster is a black male guinea pig with white fur on just his mouth and nose. He is madly in love with Juarez. At some times Blaster can get jealous of Darwin because Blaster thinks that Juarez is into Darwin. Blaster is shown funny at some times. He fell in love with Juarez the moment Blaster saw her. His love grew a little throughout the movie. On one scene, when Darwin was inside the fireplace, and Blaster and Juarez were right above him, Blaster asked Juarez, "If Darwin doesn't make it, are you free Thursday night?" showing that Blaster didn't even think about what life would be like without Darwin, and that he is optimistic, which means that he is looking forward for something good to happen. When Blaster, Juarez, and Darwin are about to cross the street, Blaster is talking about their victory, and once again, he tells Juarez that the both of them should celebrate with dinner, showing that he is trying to ask Juarez out again.
Ad blocker interference detected!
Wikia is a free-to-use site that makes money from advertising. We have a modified experience for viewers using ad blockers

Wikia is not accessible if you've made further modifications. Remove the custom ad blocker rule(s) and the page will load as expected.