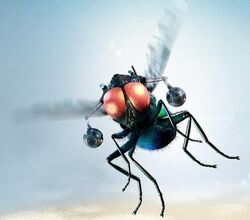 Mooch
is a fly in the 2009 live-action film
G-Force
. He serves as the team's eye in the sky and is voiced by Dee Bradley Baker.
Mooch is like all other flies, except that he was made by Ben, so he is sort of like a robot fly. He serves as the G-Force team's surveillance specialist. In the beginning of the movie, Mooch is seen using a sensor device to spy on Leonard Saber and his Clusterstorm project. Mooch is later seen when he was trying to wake up Ben to tell him where Darwin, Juarez and Blaster were. Ben thought that Mooch was an ordinary fly, and he nearly squished Mooch by accident before realizing who the fly was. Mooch assists Darwin by giving him the virus-infected PDA, which Speckles uses to shut down his deadly Saberlink robot that he created. Mooch is last seen celebrating with the guinea pigs on a successful mission.
Ad blocker interference detected!
Wikia is a free-to-use site that makes money from advertising. We have a modified experience for viewers using ad blockers

Wikia is not accessible if you've made further modifications. Remove the custom ad blocker rule(s) and the page will load as expected.